Crew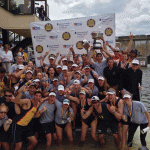 Crew triumphant in fourth straight overall Dad Vail victory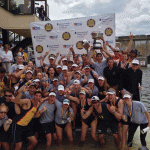 In Philadelphia, racing on the Schuylkill River is a long standing tradition for crew. It's held a number of regattas, like the Navy Day Regatta and the Head of the Schuylkill Regatta in the fall.  But, the most anticipated race on the Schuylkill in the spring season is always the Aberdeen Dad Vail Regatta. What also seems to be tradition, in recent history, at least, is Drexel University grabbing the win at this last race.
Apr. 15, 2016
Crew successful at George Washington Invite, Knecht Cup
The Drexel Men's Crew participated in the George Washington Invitational April 8 and 9. Both the varsity eight and the second varsity eight won their Friday morning races. The varsity eight is currently ranked at number 14 in the nation. Georgetown posed a difficult task as Drexel's varsity eight in the Sandra Lee Sheller II just barely came away with a victory, winning by just seven tenths of a second with a time of 5:35:90. That may sound close, but somehow the second varsity eight found a way to make their race even closer by defeating Georgetown by only five tenths of a second. The second varsity eight raced in the Lois Krall boat and finished with a time of 5:41:10.