Tag: materialism
Mar. 17, 2017
The power of sustainable materialism
Environmental activism has shifted away from the notion of post-materialism, the idea where people will inherently impact the environment less as their basic needs are met, to that of sustainable materialism.
Jul. 9, 2016
Holidays: mind over materialism
Leaning against my register, I watched customers scurry throughout the store violently tossing items into their shopping carts. As their carts filled with useless products, I was filled with disgust.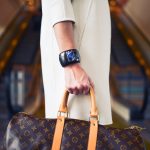 Apr. 22, 2016
Our materialistic possessions do not define us
Growing up in a small town, I was rarely exposed to people of wealth. The few citizens in my town that I deemed rich weren't even that wealthy– they just liked to buy expensive items to create the illusion that they were. Occasionally, I would see a spotless BMW rolling down the back roads of my little rural town, and would laugh at the unseemly sight. I laughed even harder seeing those living Barbies walking around the community Walmart in their Gucci stilettos, clutching onto their overpriced Chanel tote. These people didn't belong in my town and thankfully, they were quite rare. Most people from my town could be found proudly wearing an outfit from Target paired with shoes bought using Kohl's cash.