Articles by
Jan. 12, 2018
"And the award goes to…"
"The Fake News Awards, those going to the most corrupt & biased of the Mainstream Media, will be presented to the losers on Wednesday, January 17th, rather than this coming Monday. The interest in, and importance of, these awards is far greater than anyone could have anticipated!" the United States' democratically elected commander-in-chief, Donald J. Trump, said Jan. 7. Well, said in a tweet, anyway.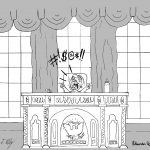 Dec. 8, 2017
To the ones we don't thank enough
As fall term draws to a close, we usually take this time to thank our loved ones for keeping us from tearing our hair out all year long. But this year, we decided to take a minute to thank everybody else — the people who play an essential role in keeping The Triangle afloat, and never seem to get much credit for it.