Articles by Elisa Money
Feb. 5, 2016
"Grease: Live!" delights fans both old and new
"Grease: Live!" aired on Fox Jan. 31. "Grease," a musical written by Jim Jacobs and Warren Casey that premiered in 1971, is set in the year 1959 at Rydell High School, a fictitious institution filled with greasers, cheerleaders and everyone in between. The show follows two groups of teenagers, the T-Birds and the Pink Ladies, as they deal with the trials and tribulations of '50s high school life. The lead characters, Sandy Olson and Danny Zuko, had a summer fling and expected to never see each other again. Little did they know, Sandy would transfer to Danny's high school for their senior year. The musical touches on issues like teen pregnancy, peer pressure and gang violence with themes including love, friendship, rebellion and sexual exploration. The show was nominated for seven different Tony Awards in 1972, including Best Musical, but did not take home the trophy in any of the categories.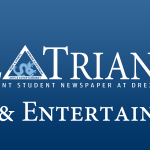 Jan. 29, 2016
Panic! at the Disco releases solid fifth studio album
Las Vegas' Panic! At the Disco released their fifth full-length studio album "Death of a Bachelor" Jan. 15, their first No. 1 charting on Billboard's Top 200. It's safe to say that the alternative rock band has come a long way since releasing their first LP, "A Fever You Can't Sweat Out," which featured the hit single "I Write Sins Not Tragedies." "Death of a Bachelor" was released on Fall Out Boy Pete Wentz's label DCD2, and is available for download or streaming on all major music services.
Jan. 22, 2016
Mad Dragon Records' Matt Sharayko releases debut
If you could take Thom Yorke's voice, Passenger's sound and Radical Face's lyrics, you would end up with Matt Sharayko. He's an up-and-coming alternative folk singer-songwriter from Harleysville, Pennsylvania, with his first LP, "Friends of Friends," dropping Jan. 22 on Bandcamp. Sharayko is currently unsigned and is working with the Mad Dragon Music Group for promotions and marketing. His tracks "Stage Fright" and "Cinnamon Girl" have both already been released as singles on his Bandcamp page. Sharayko's full length debut offers a wide range of music — from beautifully arranged tracks featuring violin and acoustic bass to full band grunge grooves.