Articles by Leah Friedman
Feb. 26, 2016
BalletX's winter performance features diverse program
The first time BalletX really pulled me in was when I discovered a ballet that Matthew Neenan, co-founder of the company, choreographed entirely to the music of Indie-brass band Beirut. The piece was light, happy, beautifully quirky and inspiring. Six years later in its winter series, BalletX continues to move audiences with its unique flair.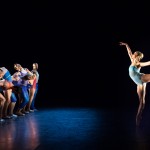 Nov. 14, 2014
Rare Bowie recordings find spotlight
With the "David Bowie Is" exhibit open at the Museum of Contemporary Art, Chicago, all things Bowie have recently begun coming to light, including some rare David Bowie records stored in Drexel University's Audio Archives. In actuality, the few rare records stored in the collection have been there since 2005 but some interesting discoveries have been made about the records since.