Articles by
Nov. 17, 2017
Men's basketball defeats Arcadia University 95-81
The Drexel University men's basketball team opened up their season at home against the Bowling Green College Falcons Nov. 11. According to drexeldragons.com, the game drew 2,504 people . The team definitely fed off the crowd in the first half because they led 42-32 at halftime.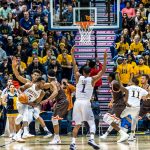 Nov. 10, 2017
Men's basketball ready to host opening season game
The Drexel University men's basketball team is looking to have an improved season this year after coming off a 9-23 season last year. Despite some early optimism, the team ended last season on a rough note after finishing with a six-game losing streak. Still, one of the bright spots last year was Kurk Lee, who averaged an impressive 14.9 points per game, four rebounds, and five assists last year in his freshman year. The Baltimore native is hoping to continue his impressive start and progress even more this season. The team is hoping that its three new freshman additions forward Tadas Kararinas out of Lithuania; forward Tim Perry Jr. out of Cherry Hill, New Jersey; and forward Jarvis Doles out of Baltimore; can positively contribute to the team. Even if their statistics don't illustrate major contributions this year, the groundwork is set for growth within the program.