Articles by Mirijam Schuster
Feb. 7, 2014
Drexel hosts Materials Science Day
For the fourth year in a row, the departments of materials science and engineering at Drexel University and the University of Pennsylvania presented the Philly Materials Science and Engineering Day Saturday, Feb. 1. at Drexel's Bossone Research Center. Student volunteers from both Drexel and Penn came together to give the public an insight into their field. Through hands-on experiments, demonstrations and lectures, both children and their parents were able to learn about the materials out of which our world is made.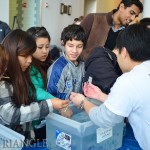 Oct. 25, 2013
International students get job tips
Dan Beaudry presented "How International Students Can Find Employment in the U.S." Oct. 10 in Mitchell Auditorium and shared his knowledge of the potent job search system he has used to help international students.