Articles by Ryan Quint
Feb. 26, 2016
Songwriter Bibi Bourelly discusses working with Rihanna
Bibi Bourelly's path to Def Jam — an American record label — began in Berlin, where she was born into an artistic family.  Her father is the prolific jazz and Black Rock Coalition guitarist of Haitian and American descent, Jean-Paul Bourelly. Her mother, of Moroccan descent, was the head of the Art Department at Berlin's House of World Culture. Bourelly's decision to immigrate to the U.S. in high school eventually brought her to Los Angeles, where her music career took off.  She has now written songs for the likes of Rihanna (four tracks including "Bitch Better Have My Money," "Higher," "Pose" and "Yeah, I Said It"); Selena Gomez ("Camouflage") as well as Usher and Nas ("Chains"). "Sally," her newest track, premiered Feb. 19 alongside an interactive music video collaboration with LA-based tech wiz Master of Shapes.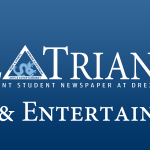 Jan. 29, 2016
The Triangle talks with up and coming band Oh Wonder
Oh Wonder, a London, England-based songwriting duo made up of Anthony West and Josephine Vander Gucht performed in front of a sold out crowd at Union Transfer Jan. 26. Before their sold-out show, the Triangle's Ryan Quint had an interview with the group to discuss their current tour, surprising their parents with matching tattoos, the importance of Soundcloud and much more!
Nov. 13, 2015
The Triangle interviews up and coming artist Tory Lanez
Toronto native Tory Lanez came to Drexel University Nov. 5 to speak in front of a very intimate crowd and discuss his life and career in the music industry. Lanez has worked with artists such as Justin Bieber, Meek Mill and YG over the span of his five-year career but you would never know that from his humble and laid-back demeanor.