Articles by
Nov. 10, 2017
The U.S. is playing chicken with North Korea
Chicken: When two agents with the freedom to choose non-conflicting paths deliberately choose to travel on a path of imminent collision, each hoping that its resistance to changing paths will force the other agent to change paths.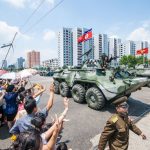 Nov. 3, 2017
A 72-year-old race to the bottom: a plea for peace
Aug. 6 marked the 72nd anniversary of the world's first encounter with "fire and fury" — the atomic bombing of Hiroshima. Paul Tibbets, Enola Gay pilot, felt his teeth tingle in his skull and his mouth filled with the taste of lead fillings; his indication that the city below him had erupted into flames. Three days later, Nagasaki was bombed.