Articles by Shayla Joselle De Leon
Nov. 16, 2016
Distressed for less
The colder weather of fall is upon us, and it's time to put away our summer shorts. One of the biggest trends this year is distressed mom jeans
Mar. 4, 2016
Beauty review: fresh for spring
Spring is time to feel and look rejuvenated. It's time to wake up from winter hibernation and look well rested for spring. To help you look your best for the new season, here are some tips to make you look young and fresh.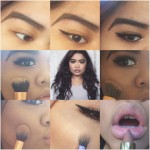 Feb. 12, 2016
Style guide: Valentine's Day
Love is in the air! With Valentine's Day quickly approaching, perhaps you're having trouble deciding what to wear to impress your significant other. Maybe you're single and want an excuse to dress up with your friends. You could even be bored, and relaxing at home! Whether you're going out or staying in, here are some Valentine's Day looks you'll fall in love with no matter what you're doing.