Articles by Taylor Johnson
Jun. 2, 2017
Inventor Leah Buechley talks equity in education
Leah Buechley,the third speaker in the ExCITe Center's Learning Innovation Conversation series, spoke about equity, engagement and technology in education at the Bossone Research Center May 23.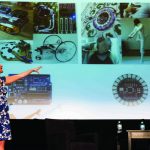 May. 12, 2017
Learning Innovation at ExCITe Center
Drexel University's ExCITe Center, a place for students to collaborate on projects at the intersection of design, engineering, and entrepreneurship, deployed a new program called Learning Innovation at the start of 2017.