Articles by Zhengyuan Bi
Aug. 21, 2015
Store Profile: Calypso St. Barth
Calypso St. Barth launched its first store in 1992 in St. Barth, a Caribbean island, and now has 52 stores all over the United States. The brand is inspired by travel, culture and art. Women of all ages appreciate their highly unique pieces. From dip-dyed kaftans to cashmere cardigans, Calypso St. Barth provides customers with both modest and comfortable pieces.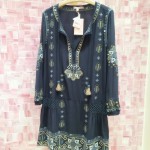 Oct. 24, 2014
Fashion tech startup: Colabination
Starting a new business is intimidating for any new entrepreneur, let alone a new fashion designer. Colabination's founder Scott Latham's passion for fashion has allowed him to be close to the problem that new designers are facing today. He noted that, "the relationship between designers and customers is underutilized in so many ways." These experiences helped him to create Colabination, a two-sided e-commerce marketplace that helps designers become more successful through a more personal customer relationship.