Softball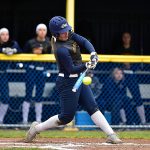 Softball sweeps Towson to get back on winning track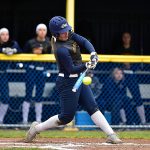 After losing all but one of its last seven games, the Drexel University softball team rebounded this week against Colonial Athletic Association competition, Towson University. They went two for two against Towson in a doubleheader April 21. The two teams were supposed to play the following day, but the game was canceled due to inclement weather.
Apr. 21, 2017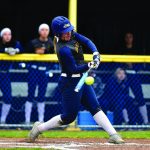 Apr. 14, 2017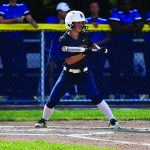 Apr. 7, 2017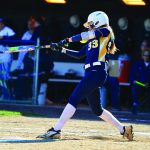 May. 13, 2016
Softball team finishes season at C of C
The fourth-seeded Drexel University women's lacrosse team fell to number one seed James Madison University Dukes on May 5. The team was defeated at home 12-3 in the first round of the CAA Championships.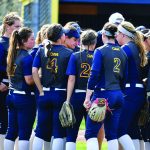 Apr. 29, 2016
Sweep at Hofstra drops softball to 17-29
Things looked bleak for the Drexel University softball team when they walked off the diamond April 26 after suffering a two run defeat at the hands of city rival La Salle University.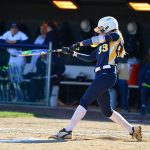 Apr. 22, 2016
Softball seven game losing streak broken against Seton Hall
Entering their April 16 matchup with Towson University, it was fair to say that something was a little off for the Drexel university softball team. They seemed to be just on the precipice of making a strong run through the start of CAA play, but had been unable to put together a complete performance of stellar pitching supported by a productive offensive day at the plate. Unfortunately for the team, the unseasonable snow that wafted down may have been an ominous sign of things to come, perhaps an indication of the temperature of the offensive attack for the Dragons in their next four games.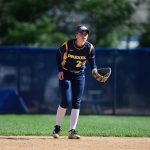 Apr. 8, 2016
Softball triumphs against Hampton, falls against Bucknell
Emerging from the preseason tournament portion of their schedule, Drexel University's softball team had certainly shown flashes of potential. An undefeated, albeit abbreviated, Lady Pirate Classic was followed up with a 5-5 performance at the rebel games, which had its highs (such as the 14-4 triumph over Hampton), but also its lows (a 1-10 loss to Bucknell capped off the Orlando trip).
Mar. 11, 2016
Softball goes 1-3 to start Rebel Games
Photo courtesy Drexeldragons.comLife is about finding your rhythm, and softball is no different. In a sport where seasonal weather forces training and offseason practice inside, the transition from simulated conditions to actual gameplay can be a difficult one. This seemed to be the case for the Drexel University softball team, who struggled to an 0-3 start in early February, a stretch during which they only managed one run. But the Dragons showed their savvy by rebounding and finding their timing. The result: a whopping 20 runs in the next two games, and they haven't looked back since.
Feb. 19, 2016
Late win on Valentine's Day takes softball to 3-3 overall
The Drexel University softball team had a wonderful Valentine's Day while playing in the Tiger Classic. They took to the field against the Jacksonville State University Gamecocks and made the most of the holiday. The Dragons showed great resilience in this game, making sure to keep composure and play their brand of softball. Coming into this game the Dragons were 2-3, and riding a two-game win streak.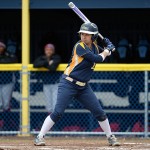 Jun. 26, 2015
Interim tag removed, Taylor named softball head coach
Carl Taylor, pictured third from left, will take over as the full-time head coach of the Drexel University softball team after serving as interim coach since February. (Photo courtesy – Drexel Dragons) Newly-hired Drexel University softball coach Carl Taylor loves softball for many reasons. In his own words, he loves it because "it's a very fast-paced, exciting game with an emphasis on strategy and execution."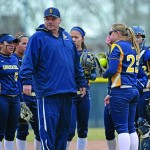 May. 1, 2015
Softball drops weekend series to Towson
The Drexel University softball team opened up play April 25-26 with a split in a doubleheader against Towson University. In the first game, pitcher Taylor Lee went the full seven innings despite losing the Dragons losing the game 4-3. The Dragons were down early 3-0 after giving up a two-run home run in the bottom of the fourth.
Apr. 3, 2015
Southern discomfort in spring softball
Wind crept around the Westpark Apartments and rounded for home just after noon March 29. It was a dazzling morning, the sun-glazed sky absent clouds, but warmth escaped the Vidas Athletic Complex as the Drexel University softball team took on Elon University in the third of three weekend games.
Mar. 13, 2015
Softball wins two of three against Gardner-Webb
Drexel University softball improved to a 3-5 record on the season after a convincing victory over Gardner-Webb University March 7-8. Drexel took the weekend series 2-1 over Gardner-Webb with back-to-back wins, after being off for nearly a month. The Dragons got off to a hot start during the March 8 contest, scoring three runs in the top of the second inning.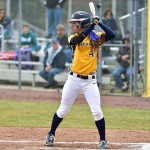 May. 9, 2014
Softball team ends year with brutal road losses
Drexel's softball team had its season all but finished when it hit the road for three in Hempstead, N.Y., to face Hofstra University. The Dragons were in the midst of a six-game skid that had eliminated them from playoff contention in the Colonial Athletic Association. As they were set to face the Pride, the only thing they had left to play for was their own.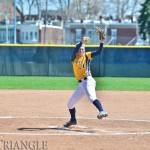 May. 2, 2014
Sweep in Charleston ends softball team's quest
The Drexel softball team traveled to Charleston, S.C., with a chance to make up ground in the Colonial Athletic Association standings and get closer to the playoffs. But after getting swept by the College of Charleston over the weekend, the Dragons'"Road to CAA," which has been their theme all year, is out of reach.