Swimming & Diving
Jul. 8, 2016
Season comes to an end for Bernhardt at Olympic Trials
While most Drexel University athletes finished their seasons at the beginning of summer and are currently preparing for the coming season, there was one Dragon rigorously training and competing through the end of June.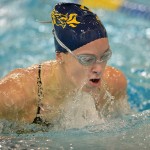 Mar. 4, 2016
Men's swimming and diving finishes second at CAA championships
Photo courtesy Drexeldragons.com The Drexel University men's and women's swim teams competed this weekend at the Colonial Athletic Association Championships in Richmond, Virginia. Both teams put together stellar performances, swimming to the best of their abilities. The women's team finished in seventh place, and the men's team finished in second. Rachel Bernhardt and Joel Berryman both had excellent matches. They did their part, along with the rest of the team, to give Drexel a fighting chance. The women's team broke multiple records during the championship. In the 200 individual medley, April Frosthoffer recorded a time of 2:03.67 which nabbed her fifth place in the race, and also a school record. In the 200 free relay, consisting of Bernhardt, Aubrey Murray, Emily Lau and Claudia Duguay, the team took fourth place with a 1:34.25 time, which tied the school record. Drexel took fourth place in the 200 medley relay. Forsthoffer, Bernhardt, Lau and Duguay swam with speed to notch a time of 1:42.07. Duguay, Forsthoffer, Emily Joyce and Murray each took part in the 800 free relay. Even with this tough race the team found their way to sixth place, notching a 7:31.22 time and another school record. Bernhardt earned her first gold medal of the night on Friday, the third day of the Championships. She swam a blazing 1:00.65 in the 100 breast which not only a personal best, but a Drexel record as well. Bernhardt became the first Drexel women swimmer to earn a CAA gold medal. In the 400 medley relay, Bernhardt, Frosthoffer, Gillian Gress and Charlotte Myers took sixth place with a school record time of, 3:45.22. It is worth noting that in prelim matches, Frosthoffer broke the school record in the 400 Independent Medley with a time of 4:26.80. Myers then broke the Drexel record for the 100 fly with a time of 56.29. Both just barely missed the qualifying times to move on in these events. Bernhardt earned her second gold medal on Saturday, this was also the second Gold medal received by a Drexel women swimmer. She received the medal for her 2:10.89 time in the 200 breast, which you can guess, was a new school record. The Dragons also finished sixth in the 400 free relay with a team of Duguay, Myers, Frosthoffer and Bernhardt. They notched a time of 3:27.36. The men's team had as much success as the women's, and then some. In the 200 medley relay a team of Joel Berryman, Ralph Cannarozzi III, Kyle Lukins, and Liam Kelly took first on the race, and broke the school record with a time of 1:27.87. Berryman, Lukens, Ivo Pejovic, and Luke Hanner took second place in the 800 free relay. They also set a new school record with a time of 6:34.44. On the second day of competition, Berryman took the gold in the 50 free, touching the wall at 20.02, and again setting a new school record. Kelly, Sean Swartz, Lukens and Berryman teamed up for the 200 free relay. They earned a time of 1:21.64, notching them a silver. The third day of competition was again filled with broken records. Berryman took another gold in the 100 back, breaking a school record which he previously owned, he earned a 47.16 time. Lukens broke the record for the 100 fly, and earned second place in the race with a time of 47.59. J.T. Lumpkin also took part in the 100 fly, he took eighth place with a time of 49.77. Hanner took fifth place in the 200 free, earning a time of 1:39.50. In the 100 breast, Joseph Brown took fifth place earning a 56.08 time. Fellow freshman teammates Harrison Schultz and Cannarozzi took sixth place and eighth place respectively. In the prelims, Zoltan Gercsak broke a long standing Drexel record in the 400 independent medley. In his third individual event, Berryman took home another gold medal. With a time of 43.56, Berryman not only set a new Drexel record, but also a new CAA Championship record. Lukens broke the record for the 200 fly, and earned a bronze medal with a time of 1:46.65. In the 200 breast Brown finished with a bronze medal, touching the wall at 2:00.50. Cannarozzi placed seventh in the 200 breast with a time of 2:04.71. In the 400 relay, Berryman, Hanner, Swartz and Lukens earned a time of 3:00.02 which was good enough for a bronze medal. The grueling 1650 free finals, Gercsak took fifth place with a time of 15:41.53. Fellow teammates, Dane Bell and Ivo Pejovic took 11th and 15th place respectively. The men's team came away with second place for the entire match, plus a plethora of broken records. Joel Berryman, in his outstanding performance, took home swimmer of the meet honors. Both the men's and women's teams did a great job representing Drexel in the Championships. With all the records that were broken and awards earned, there is no doubt this season will be among one of the best in Drexel's history.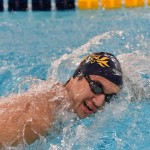 Feb. 26, 2016
Men's and women's diving team compete in CAA Diving Championships
The Drexel University men's and women's diving teams competed in the Colonial Athletic Association Diving Championships this past weekend. The match took place at the University of Delaware Feb. 20 and 21. There were many notable performances, especially from David Sanchez, who took home the Men's Most Outstanding Diver award for the third time in four years.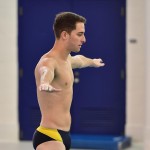 Feb. 12, 2016
Young swimmers meet success in NYU Invitational
The Drexel University men's swimming team took to the water Feb. 5 and 6 in the New York University Invitational. The men's team had been swimming extremely well, coming into this invitational having won their past five meets. However, this meet did not keep team scores.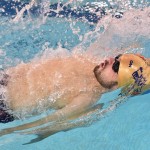 Feb. 5, 2016
Swimming: Men pull out Senior Day versus Lehigh win as women fall
Drexel University's swim team hit the water this weekend on senior day, a very emotional occasion for both teams. The men's and women's teams honored their seniors and went to work in the pool. It was tough battling the emotions of senior day, but both teams performed well.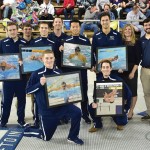 Jan. 29, 2016
Swimming/diving: men's team swims to victory at Georgetown
The Drexel University men's and women's swimming and diving teams took to the water against Georgetown University Jan. 21. There were notable performance from both teams, but only the men's team was able to come away with a victory.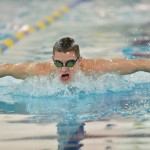 Jan. 22, 2016
Women rebound with win over Howard, men dominate
The Drexel University men's and women's swimming and diving teams took to the water this weekend against Howard University and the New Jersey Institute of Technology. Both teams competed against Howard University, but only the Men's team competed against NJIT.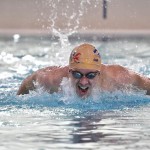 Jan. 15, 2016
Swimming/diving: Men successful at Delaware but women's team falls short
The Drexel University men's and women's swimming and diving teams took to the water Jan. 9 in their first meet of the new year. Both the men's and women's teams swam against the University of Delaware, and the women's team also swam against Northeastern University. Each of the assembled teams was anxious for a good start to the year as an early win could shift positive momentum in the direction of both teams. Especially after a long break between meets, positive momentum can mean a lot.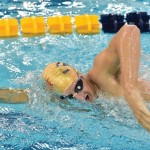 Jan. 8, 2016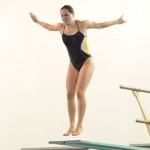 Nov. 13, 2015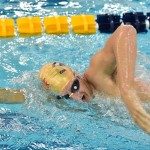 Nov. 21, 2014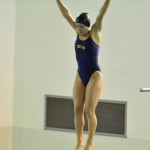 Mar. 14, 2014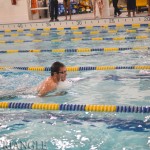 Jan. 10, 2014
Swim team back in action
It has been a month since the Drexel swimming and diving team last competed. With more than half of the season behind them, the Dragons are poised to continue their successful year. The Colonial Athletic Association championships are only a little over a month away, and both the men's and women's teams have a good chance of bringing the title home.
Nov. 28, 2013
Swimming and diving shows promise at Frank Elm
There was some excitement to be found from the men's and women's swimming and diving teams following their performance Nov. 22-24 in the Frank Elm Invitational at the Rutgers University Aquatic Center. The Dragons didn't come home with a first-place finish, but they have proven themselves valid competitors in the Colonial Athletic Association.