Inside Her Bag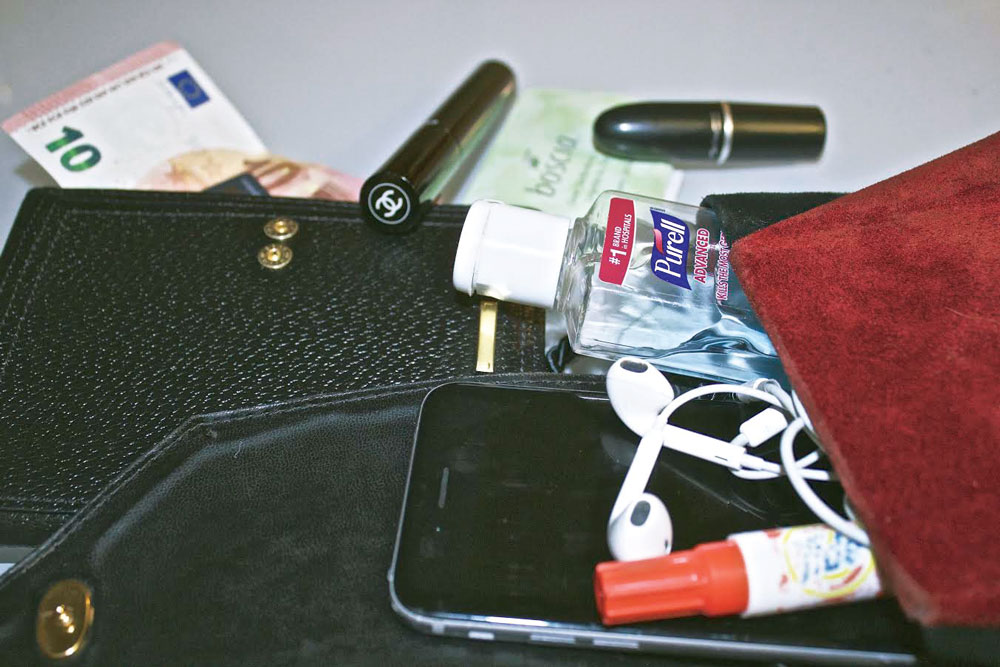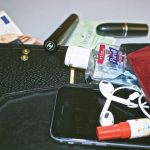 Peeking inside the bag of a study abroad student
In today's world, bags are essential tools, both to carry what you need for the day and to make a fashion statement. No matter whether you choose a satchel, a tote or a clutch, you're bound to toss everything and anything in them. What's inside says a good deal about, well, you.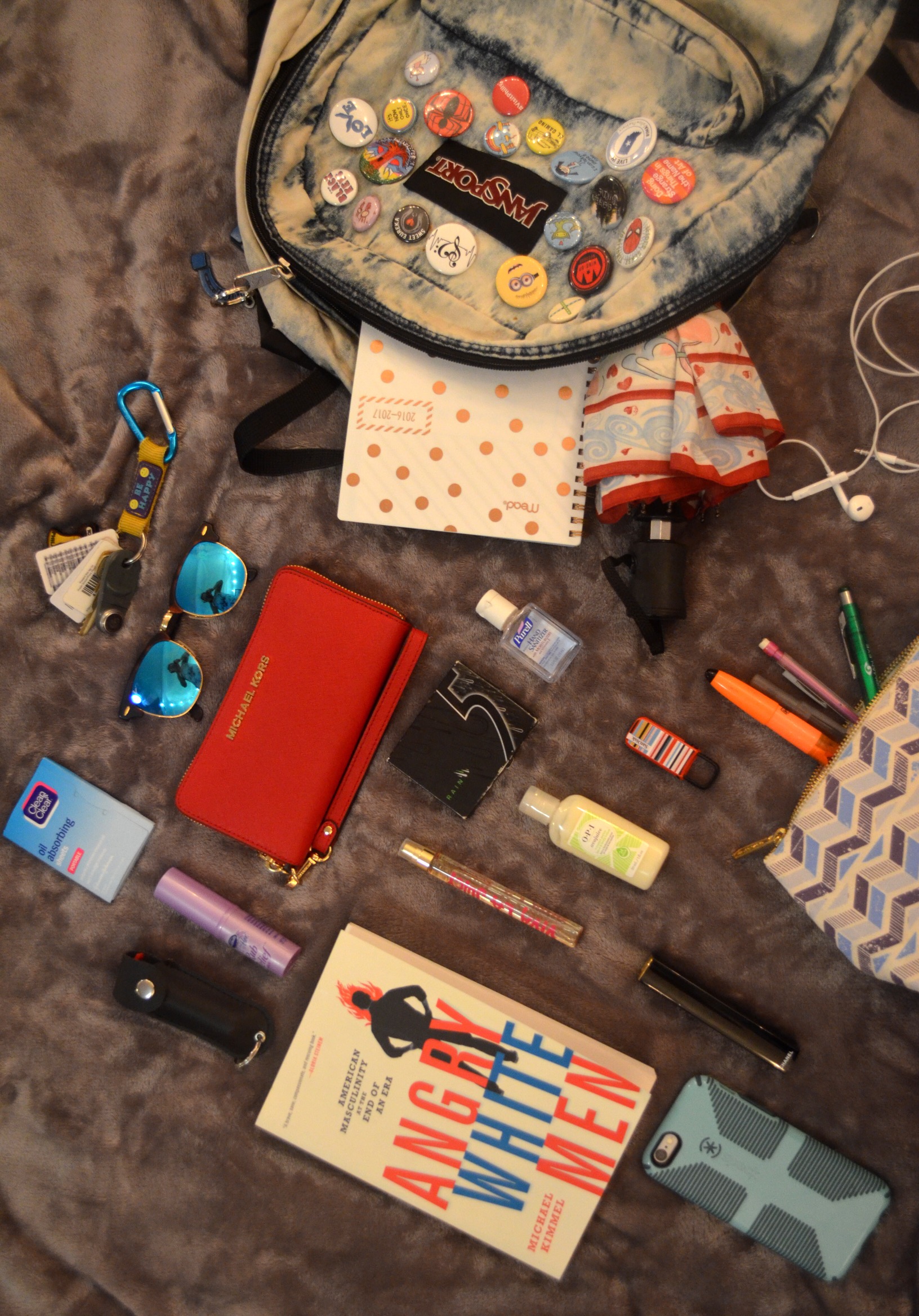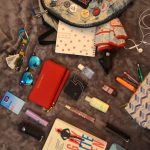 In her bag: Annie Lefever
Annie Lefever is a junior design and merchandising major with a super busy schedule. She recently picked up a minor in sociology and switched from her everyday carryall handbag to an acid wash Jansport backpack with a lot of character to accommodate for the extra textbooks she now has to carry on a daily basis. Inside her pin-decorated backpack, she carries a ton of essentials to get her through the day.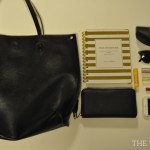 In her bag: Erika Simone Wiley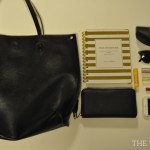 Erika Simone Wiley, a sophomore majoring in fashion design, is always running around the city. Whether it's sewing a jacket at the URBN center, buying swatches on South Street or buying art supplies for class, this girl is on the move. We got a chance to find out what Wiley carries in her bag on a busy day.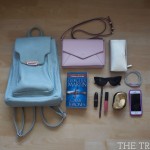 In her bag: Co-op edition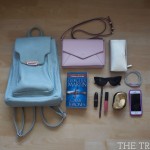 For my first co-op, I am working as a design intern at Charlotte Ronson in Manhattan, New York. As a design intern, my responsibilities include working on designs in Adobe Illustrator, going down to our showroom to pick up garments, helping put together mood boards and looking for inspiration for our next line. My necessities have changed since I left school to go on co-op, so what's in my bag has changed too! Here is a peek inside my daily co-op bag.
Apr. 17, 2015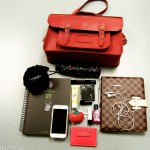 Mar. 6, 2015
In her bag: Co-op edition
Since September, I have been working at Harper's Bazaar magazine for my cooperative education. As a full time fashion market intern, my duties include communicating with in-house brands and public relations companies on sample returns, maintaining the overall organization of the ready-to-wear fashion closet, assisting on set for photo shoots and supporting the editors on daily tasks. In short, my co-op is constantly keeping me busy and on my feet. As I conclude my co-op next month, I began to realize how the items in my bag had changed since I left Drexel University and moved to New York City. Here is an insight of what I bring to work every day in my bag.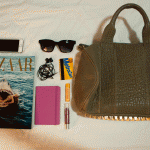 Feb. 20, 2015
In his bag: President John A. Fry
This week, President John A. Fry gave us a glimpse into his beige canvas Monocle tote bag that holds his essentials for his daily routine. He chooses to use a tote bag because it is both durable and simple to clean. "It's just easier. I like the fact that it has zippers and pockets; most canvas bags don't. Having those little things is great, because I tend to throw all my stuff in and just zip it up so I don't lose it," Fry said.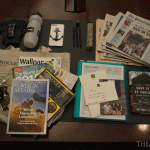 Jan. 23, 2015
In her bag: Sarah Yohe
Sarah Yohe, a junior design and merchandising major with an area of interest in interior and product design, feels strongly about her bag: "Carrying a purse definitely makes a statement. It's the perfect finishing accessory that carries absolutely everything you need to survive the day. I think my purse says that I know when to be sophisticated and professional, but I also think that this bag goes with just about every style and mood." Yohe gave us a look at what she brings around with her in her bag for a successful day of work and classes.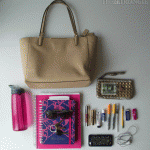 Nov. 7, 2014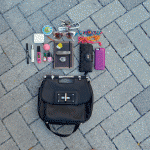 Oct. 24, 2014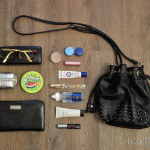 Aug. 8, 2014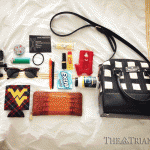 May. 2, 2014
In His Bag: Ajay Raghavan
by Courtney Denton 1. Ajay Raghavan's bag from H&M is an oldie but a goodie, and it has been by his side since fall 2010. 2. When he can get away with it, Raghavan said he prefers to use his iPad in class over his laptop. 3. Now that they've updated the iPhone, his charger serves a dual purpose and can charge both of his devices when he's on the go. 4. When the situation calls for it, Raghavan will use this black notebook for more traditional note-taking methods. It also helps that it's slim and lightweight. 5. "You can't leave your house without hairspray," Raghavan said, and L'Oreal Elnett has a nice hold without getting too crunchy. 6. He likes to splurge on luxurious personal care products when he can, like this L'Occitane hand cream. 7. A Madagascar Vanilla Almond KIND bar is stowed away for when he is in need of a midday energy boost … 8. … and a stick of peppermint gum keeps his breath from getting too offensive. 9. "I really like wearing cologne or perfume, I don't really care which," Raghavan said. "I like bringing it around in case I forget to spray some in the morning." 10. Raghavan prefers this hand sanitizer because it smells more fragrant rather than antiseptic. 11. "If I'm low on energy or … see a cute guy, I need a lollipop," Raghavan said in defense of the Blo-Pop stowed in his bag's pocket. 12. If that guy is creepy, Raghavan said, he can wield his bundle of pens in a manner of self-defense … 13. … and take his SEPTA token to make a quick getaway. Who knew this engineer was so resourceful?
Mar. 7, 2014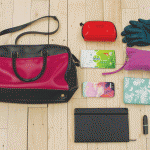 Feb. 7, 2014
In Her Bag
Entertainment and arts management student Leresa Gripper emptied her purse to show us her daily essentials: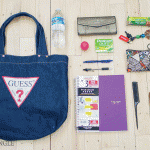 May. 24, 2013
Inside Her Bag
Design and merchandising sophomore Julia Pacitti empties her everyday tote bag to show us the essentials and fun products she carries around with her: Bag, Fossil: sturdy, water resistant and has plenty of pockets, perfect for toting things around campus Sequined laptop sleeve, Urban Outfitters: a gift from her roommates last year for her birthday, Julia frequently receives compliments for this sparkly case Red notebook: Julia's go-to scratch pad for ideas, doodles, reminders and to-do lists Paper Mate Flair Felt-Tip Marker Pen, Staples: always on her person, Julia's favorite pen is bold and smooth, making note-taking slightly less painful Oversized Cat-Eye Sunglasses, Urban Outfitters: "They're vintage and very me and are also the only pair of sunglasses that doesn't get destroyed in my bags." iPhone 4S, Apple: As a busy 20-year-old student, Julia never leaves home without her iPhone and brings headphones for when she needs to do work or has a long walk to class Cliff Bar: "A must-have since I'm always hungry and for those early-morning classes." USB drives: "They're very disorganized, but I can't go anywhere without them." Baby Lips Lip Balm, Maybelline: great for creating a soft pucker, plus the adorable packaging makes it even more necessary  ID and Coin Purse, Coach: a holder for the all-important DragonCard makes it much harder to lose …  in theory Tumbler, Lilly Pulitzer: the cutest way to stay hydrated and a much better accessory than the standard water bottle