Tag: allegations
May. 12, 2017
Update: Rape allegations, suspension for TKE
The Tau Kappa Epsilon fraternity has been placed on interim suspension amid two allegations of sexual assault occurring at their fraternity between April 28 and May 4, according to a statement from Drexel University Communications released to The Triangle May 9.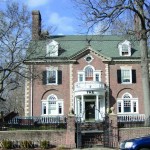 Nov. 12, 2015
Drexel University revokes Bill Cosby's honorary degree
On Nov. 12, President John A. Fry announced that Drexel University will revoke its honorary degree awarded to Bill Cosby in 1992. This makes Drexel the first University in the Philadelphia region to rescind one of Cosby's degrees.