Tag: Brazil
Jun. 27, 2014
No harm, no foul: USA advances
On Sunday, June 22, the United States, for the first time in recent memory, looked truly dominant in a World Cup match. They controlled the ball, defended well, and seemed poised to defeat Portugal en route to clinching their second consecutive berth into the elimination stage of the World Cup.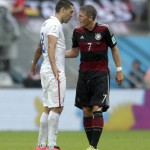 Jul. 12, 2013
Protests stunt World Cup, Olympic buildup in Brazil
Mexico's Oribe Peralta, left, and Brazil's Juan Jesus battle for the ball in the gold medal match at the Summer Olympics August 11,2012, at Wembley Stadium in London. Mexico topped Brazil by a score of 2-1, as Peralta scored twice.Rarely does a country have the opportunity to host a FIFA World Cup, and rarely does a country have the opportunity to host the Summer Olympic Games. Even more rare, and almost unprecedented, is the opportunity to host the World Cup and the Olympics only two years apart. This is the opportunity that Brazil will have when it hosts the 2014 World Cup and the 2016 Summer Olympics in Rio de Janeiro. Brazil is the first country to host the two mega sporting events consecutively since the U.S. hosted the 1994 World Cup and then the 1996 Olympics in Atlanta.
Feb. 22, 2013
International Student Style
With fashion capitals ranging from London to Sao Paulo, Brazil, it is clear that American fashion is influenced by styles from around the world. Even just from walking around on campus, one can find a unique mix of fashion inspired by global trends. Representing over 100 different countries, many Drexel students use style to reflect their diverse cultures.