Tag: Cash Money
Apr. 6, 2012
Minaj juggles two genres
After Nicki Minaj's debut album, "Pink Friday," went double platinum in December, expectations for her sophomore album have gone through the roof. After releasing a few singles that disappointed on the charts, Minaj pushed the release date back from February to April. Minaj released "Pink Friday: Roman Reloaded" April 3, which features an equal number of rap and pop songs.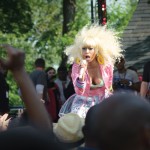 Nov. 18, 2011
Drake refines sound on sophomore album 'Take Care'
On Feb. 13, 2009, Drake's career took off. On that day, he released his critically acclaimed mixtape, "So Far Gone," which almost won him a Grammy for the most popular song on that album, "Best I Ever Had." Last June, he dropped his debut album, "Thank Me Later," which sold 447,000 copies in its first week and is now certified platinum. It's safe to say that Drake has taken over the music industry.