Tag: Charles D. Close School of Entrepreneurship
Jul. 11, 2014
University City is named innovation district
The Brookings Institute, one of the nation's most influential and quoted nonprofit public policy think tanks, named University City an "innovation district" in its May report. Brookings is dedicated to high-quality independent research and is based in Washington, D.C.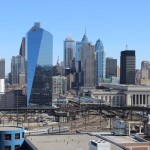 Jul. 11, 2014
Dean of Close School receives $2 million endowment
Dean Donna De Carolis of Drexel University's Charles D. Close School of Entrepreneurship has been honored with an endowed professorship of $2 million by alumnus Stanley W. Silverman and his wife, Jackie. De Carolis. Now The Silverman Family Professor of Entrepreneurial Leadership, she is the 68th recipient of an endowed professorship since Drexel's founding. De Carolis is also the sixth female professors to be named at Drexel. An endowed professorship is a very high recognition for a faculty member to receive.
May. 30, 2014
Close expands degree options
The Charles D. Close School of Entrepreneurship recently announced that students will now have the option of earning a Bachelor of Arts in Entrepreneurship and Innovation beginning in the 2014-15 academic year.