Tag: Cole Hamels
Aug. 7, 2015
With Hamels in rearview, Phillies' future taking shape
Philadelphia Phillies third baseman Maikel Franco is one of a bevy of young players the organization is expecting to help reverse its fortunes in the coming years. (Photo courtesy – Keith Allison)What in the world is happening? In one of the strangest turns of the summer, the Philadelphia Phillies have been one of the hottest teams in baseball over the last three weeks.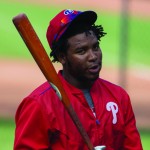 May. 30, 2014
Phillies struggling to stay afloat after two months
With the first two months of the Major League Baseball season quickly coming to an end, it's time to look at how the Phillies have performed thus far. Unfortunately, this year has not been quite as exciting as previous years, but then again who thought it would be? At 23 wins and 27 losses the Phillies are last in the National League East, but there is always a possibility of resurgence, especially with four months of baseball remaining.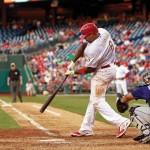 Aug. 3, 2012
Hamels re-signed; Victorino and Pence get the ax
Cole Hamels had the Philadelphia Phillies right where he wanted them. A 28-year old about to enter his prime, a clear fan favorite, a playoff hero and a very talented left-hander, he had the ideal resume to bring to the table, whether negotiations took place in Philadelphia or elsewhere.