Tag: danger
May. 19, 2017
Never bored on my board
Philadelphia has one of the highest injury and fatality rates from car crashes. According to an article on Wieand Law Firm website, the city was at the top of the list when it came to these kinds of crashes in 2013, 2014 and 2015.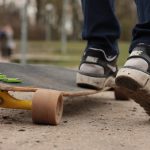 Oct. 18, 2013
Perpetual smartphone fixation: unsafe and unnecessary
Mobile technology has made us into an incredibly connected society. Whether on the train, on your morning run, in bed or in the shower, your friends can now suddenly call, text or even video-chat you out of the blue. They now have the power to talk to you about some inconsequential event that is really only wasting your time, but you're far too polite to tell them that so outright. Furthermore, you now have no excuse for missing that school- or work-related email, even though you were 400 miles away at your grandmother's funeral. Seriously, who turns their phone off at a funeral? Get with the times, dude.