Tag: Day Of Giving
May. 19, 2017
24 Hours of Impact back for second year
On May 24, Drexel University will hold its second Day of Giving, an online social campaign where students, faculty, alumni and other friends of the university are encouraged to donate money to be utilized throughout university endeavors.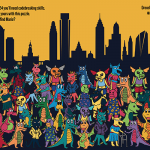 May. 13, 2016
The case of the missing Mario
Drexel 24, Drexel's "Day of Giving," has managed to bring the university together to raise more than $700,000 for the university. Almost 3,000 people from our university including alumni, students, parents, faculty, staff and general friends cashed in to break a Drexel record for how many people can be inspired to give within 24 hours. Aside from the major support we received from the alumni, faculty and staff, this movement also gave an opportunity for student groups to express solidarity with the university. Smaller groups such as the Men's Wrestling Team and Alpha Epsilon Pi were able to fundraise an outstanding amount of money, exhibiting what a small group of people are capable of accomplishing. In addition, the Close School alone was able to raise almost $300,000 for themselves.
Nov. 9, 2012
Celebrities gather to fundraise for Sandy victims
The afflictions of the New Jersey coastline are no longer limited to the bad publicity from the poor reputation provided by Snooki and the other cast members of the MTV reality series "Jersey Shore." Hurricane Sandy, which has been dubbed the FrankenStorm of 2012, caused billions of dollars in damages and disabled electricity for millions of homes and small businesses. The trending topic on Twitter received national publicity as Chris Christie, the governor of New Jersey, tweeted at celebrities from New Jersey such as Bruce Springsteen, the Jonas Brothers and Kelly Ripa. He also tweeted superstar Justin Bieber, who responded with an explanation that he is working with the Red Cross to increase donations.