Tag: Dining Dollars
Mar. 10, 2017
Meal plan: real scam
Drexel University's freshman dining plan is a scam. Students pay thousands of dollars a year, in exchange for dining options that leave them both wanting and needing more.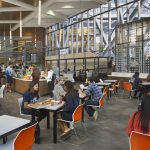 Sep. 28, 2012
Global flavors arrive on campus
Market 16 brings global flavors to campus but is strongly concentrated around an Asian theme. It has a made-to-order noodle and sushi bar with a wide variety of meat and vegetarian options catering to the needs of Drexel's diverse student population. Additionally, it provides quick and healthy grab-and-go food items for busy students and faculty alike. Market 16 has indoor and outdoor seating, providing its customers with an option to relax and enjoy a sushi roll or a hot cup of noodles.