Tag: draft lottery
May. 12, 2017
Draft Lottery could be a major turning point for the 76ers
The most important time of the National Basketball Association season is rapidly approaching. The teams involved are gearing up, hoping they'll have enough to reach the finish line, accomplishing a feat that can change the perception of a franchise for years to come. That's right, the NBA draft lottery is mere days away.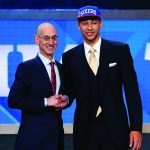 Jun. 28, 2013
Former lottery pick Kane wins second Stanley Cup
On June 18, 2007, the lowly Philadelphia Flyers lost the NHL Draft Lottery despite being the worst team in the league. The Chicago Blackhawks, only the fifth-worst squad that year, drafted a highly regarded American right wing with the No. 1 overall selection. His name was Patrick Kane.