Tag: exercise
Apr. 21, 2017
Bye bye, freshman 15
Drexel University offers its students a vast array of resources that can be used to help with both academic and nonacademic needs.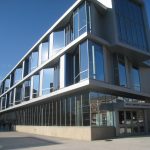 Apr. 18, 2014
A fun new civic engagement opportunity right on campus
With the weather getting warmer, many of us surely want to start spending more time outdoors. You may just want to lounge around in the sun, or you may want to do something more physically active. Running, in particular, is quite popular on our campus. Whether you just want to jog casually or are looking to train for a race, it's not too hard to find other people on campus who are just as enthusiastic about running as you are.