Tag: fitness
Apr. 21, 2017
Bye bye, freshman 15
Drexel University offers its students a vast array of resources that can be used to help with both academic and nonacademic needs.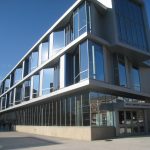 Mar. 14, 2014
Fitness, obesity, and body image
Fitness blogger and mother of three Maria Kang stirred up a bit of controversy in October when she posted a picture on Facebook of herself in a bra and underwear flanked by her three sons, posing the question: "What's your excuse?" As you might expect, the backlash was loud and instantaneous. She was accused of bullying and fat-shaming; women were outraged at her hubris. "Who does she think she is?" and "We can't all afford personal trainers!" were among the criticisms of her post.
Aug. 23, 2013
Men's soccer among CAA favorites
Senior defender Tal Bublil works the ball forward against Northeastern University during Drexel's 2-1 loss to the Huskies Oct. 3, 2012, at Vidas Field. Bublil was named to the Preseason All-CAA Team prior to the 2013 season.One week from today, the Drexel men's soccer team will begin the 2013 campaign with the highest expectations the program has seen in a long time. It will take an extraordinary effort from the Dragons in order to defend their regular-season Colonial Athletic Association title, but head coach Doug Hess is confident that his team has what it takes.