Tag: Forbes
Jan. 22, 2016
Gray named on 30 under 30 list
Million Dollar Scholar Christopher Gray was ranked on Forbes 2016's 30 Under 30 list as one of the country's leading social entrepreneurs. The 24-year-old, 2015 Drexel graduate earned the title for Scholly, a web and app platform that he co-founded with Drexel graduate Nick Pirollo and Bryson Alef, a graduate of Amherst College. Inspired by his own struggle to find scholarships, Gray created Scholly to help high school and college students find and apply for scholarships efficiently.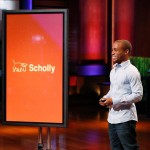 Aug. 3, 2012
Forbes Ranking Disfavors Co-op Program
The rankings are based on five general criteria: postgraduate success, student satisfaction, debt, four-year graduation rates and competitive awards. While we agree Drexel doesn't win in the debt category and our freshman retention rates don't support the student satisfaction aspect, we feel our postgraduate success and five-year graduation rate should be enough to bump us up, if only Forbes would recognize five-year co-op institutions.