Tag: internship
Feb. 21, 2014
Microsoft speaks on unique internship opportunities
Three Microsoft representatives visited campus Feb. 19 for an information session in the University Club Sky View lounge to speak about the Microsoft Information Technology Group and internship opportunities and to give advice.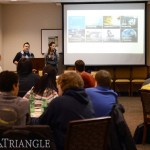 May. 17, 2013
Drexel students co-op in Italy with Parma Panthers
Having your Drexel co-op in Italy is amazing, but having your Drexel co-op in Italy while working for an Italian football team is just incredible. Luckily enough, that is exactly what two sport management students, Rene Coleman and Cullen Hynes, are doing.