Tag: Kristen Stewart
Jul. 22, 2016
'Cafe Society' explores young love in 1930s Hollywood
"Cafe Society" is Woody Allen's 40th installment in what is likely the longest streak of annual movie releases by a single writer and director in all of Hollywood. The ease and style with which Allen pulls off "Cafe Society" is truly a reflection of his immense experience and prolific career.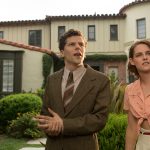 Nov. 30, 2012
Final 'Twilight' best of series
Whether this brings tears of sorrow or tears of relief, the highly anticipated conclusion of "The Twilight Saga," "Breaking Dawn — Part 2," opened in theaters Nov. 16. In the United States, it reaped an impressive $71.2 million on its opening day and another $141.1 million on its opening weekend. Globally, it grossed $340 million its opening weekend. It is currently totaling about $600 million worldwide. This caps the entire "Twilight" saga with a franchise worth $2.8 billion. Let that sink in and sting a little.