Tag: lies
Apr. 14, 2017
Lies trump the truth
Orson Welles, the great American filmmaker, loved a good joke. He began his career with a radio broadcast about a Martian invasion of New Jersey that threw the whole country into a panic, and ended it with a movie called "F for Fake" about a Hungarian art forger and a few reflections on the fine art of scamming.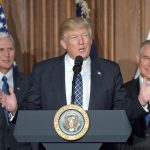 Feb. 24, 2017
When a liar speaks the truth
In writing about Donald Trump in these pages last spring, I pointed out that part of his appeal — and his value — lay in his willingness to drive sacred cows out of the barn. Trump, and no one else, said bluntly that the American working class had been sold out. He, and no one else, said that America was giving Europe, South Korea and Japan a nearly free ride on defense and wondered why. He, and no one else, said that demonizing Russia at the risk of a new Cold War was stupid and dangerous.