Tag: memorial
May. 30, 2014
Biology junior found deceased
Junior biology student Kirsten Vannix was found deceased in her off-campus apartment May 22. The cause of death has yet to be confirmed.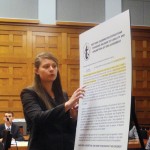 Nov. 8, 2013
Drexel should better acknowledge Veterans Day
Even though Veterans Day is not a University holiday, Drexel did acknowledge the holiday by hosting a Veterans Day Primer event Nov. 7, in which the Drexel community was invited to reflect on the service and contributions of veterans throughout America's history. However, the Editorial Board feels that this event could have been promoted more. Students who didn't attend because of a lack of advertising could have gotten a lot out of the primer. The primer is a wonderful event, and we thank Drexel for thinking to host it, but a stronger effort to invite the entire community is a necessity.