Tag: overcrowding
May. 19, 2017
Controlling SEPTA's crowded commute
It can be a cost-efficient means of everyday transportation if you buy a weekly or monthly trailpass, but this railroad has a reputation for being late. It also has a reputation for overcrowding during rush hour while being late ,which makes sense since the train is spending extra time at stations waiting for passengers to exit and board the train.
May. 4, 2012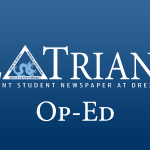 Aug. 26, 2011
Overcrowding will deter future Drexel potentials
For the second year in a row, Drexel is experiencing severe issues regarding the overcrowding of campus housing. Students planning to live in upperclassman dorms, such as North and Race, recently received communication from the University detailing alternate housing options; simultaneously, incoming freshmen are being notified in tiers of their housing assignment for the 2011-12 school year — and many of those freshmen will be subjected to less-than-comfortable arrangements without their approval.