Tag: Philadelphia Museum of Art
Apr. 14, 2017
Spring into the spring
Winter is the most brutal season for college students. It's a time of year when we feel at our worst.While this isn't necessarily attributed to the cold harsh weather of winter, it certainly can play a big role in how we feel.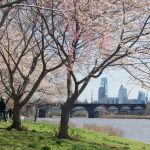 Nov. 16, 2012
Craft show gives viewers new artistic perspective
The Philadelphia Museum of Art hosted their 36th annual craft show from Nov. 8-11. The show was filled with vendors from around the country and the world demonstrating their artistic processes for onlookers.The Philadelphia Museum of Art hosted its annual craft show Nov. 8-11. Made possible by the efforts of both the Women's Committee and Craft Show Committee groups within the Museum, this was the 36th consecutive year for the show.
Dec. 2, 2011
Local artist hosts bazaar
Philadelphia designer and children's book author and illustrator Alexander Stadler has his name popping up all around the city. The Rhode Island School of Design graduate brought together 40 local designers to sell their work at the Philadelphia Museum of Art Store in a pop-up bazaar that he calls Philadelphia Produces Original Design or P.POD. Stadler describes his  unique, handmade items as "freakish, brilliant or gorgeous." They are on sale until Dec. 31.