Tag: press
Apr. 14, 2017
Lies trump the truth
Orson Welles, the great American filmmaker, loved a good joke. He began his career with a radio broadcast about a Martian invasion of New Jersey that threw the whole country into a panic, and ended it with a movie called "F for Fake" about a Hungarian art forger and a few reflections on the fine art of scamming.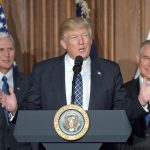 May. 9, 2014
Westphal showcases prized photos
World Press Photo, the largest and most prestigious annual international press photography contest, made its debut in the United States April 30 at the Leonard Pearlstein Gallery. The exhibition showcased 143 prize-winning press photos that capture the most critical issues around the world.