Tag: prevention
May. 12, 2017
Speak up about sexual assault
Two incidents of sexual assault were reported at Drexel University's Tau Kappa Epsilon fraternity recently, alleged to have happened between April 28 and May 4. Now, the fraternity has been suspended temporarily while an investigation is conducted.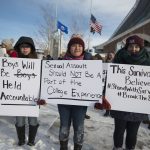 Apr. 6, 2012
University receives anti-hazing recognition
Drexel University received the Zeta Tau Alpha Award for Innovation in Campus Hazing Prevention and Education this past March, which will allow Drexel to continue its work to fight hazing in all aspects of University life.