Tag: propaganda
Jun. 2, 2017
Free speech propaganda and the right to be heard
Free speech is the most important right we have. The Founding Fathers, understanding it as the prime element in a free society, wrote it into several amendments of the United States Constitution. The First Amendment guarantees it as a right in terms of individual and collective speech on civil and religious matters, whether by personal expression, public assembly or private worship.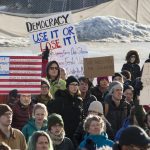 Apr. 14, 2017
Lies trump the truth
Orson Welles, the great American filmmaker, loved a good joke. He began his career with a radio broadcast about a Martian invasion of New Jersey that threw the whole country into a panic, and ended it with a movie called "F for Fake" about a Hungarian art forger and a few reflections on the fine art of scamming.