Tag: risks
Sep. 15, 2017
Freshman year: the time to take chances
Humans prefer a structured life to one characterized by chaos and uncertainty. We would rather follow the light at the end of the tunnel than go out with torches in search of an exit. Nowhere is this culture of order and focus more manifest than in our approach to college education. But, how is this intense fixation with a specific goal, right from the onset of our college careers,  making us miss the point?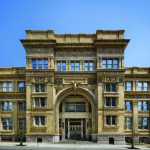 Nov. 18, 2016
Take a risk with your makeup
A few months ago I was talking to a friend, when she looked at me, very confused, and asked me if my eyebrows were purple. I laughed and said they weren't, and we agreed that it was probably just the light.