Tag: Runway
Mar. 4, 2016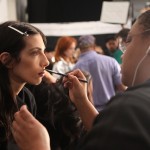 Feb. 22, 2013
Mercedes Benz Fashion Week
With the conclusion of Mercedes-Benz Fashion Week Feb. 14 and the recent migration of fashion experts from New York to London Fashion Week, it is safe to say that the Big Apple is slowly gaining back some normalcy. Much like the holidays, Mercedes-Benz Fashion Week arrives abruptly, spins New York on its back and disappears before you can recognize that it was even there. Simply put, the eight-day stretch consists of nonstop show hopping, before- and after-parties, spotting the most epic street style, and of course, posting every waking second of it on Instagram. As quickly as it arrives, MBFW leaves us with lessons of victories and failures both on and off the runways.
Feb. 22, 2013
Designer Profile: Erin Barr
Hair and makeup expert turned fashion designer Erin Barr established herself in the beauty industry after graduating from the Aveda Institute in Minneapolis. Barr garnered an address book full of celebrity clients and worked on editorial shoots in New York City as a hair and makeup artist. Although she gained much success, Barr longed to discover her true calling.