Tag: ryne sandberg
May. 30, 2014
Phillies struggling to stay afloat after two months
With the first two months of the Major League Baseball season quickly coming to an end, it's time to look at how the Phillies have performed thus far. Unfortunately, this year has not been quite as exciting as previous years, but then again who thought it would be? At 23 wins and 27 losses the Phillies are last in the National League East, but there is always a possibility of resurgence, especially with four months of baseball remaining.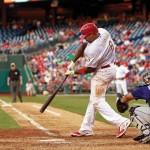 Jun. 28, 2013
Manuel might be on his way out
The Philadelphia Phillies are about to enter the most uncertain stretch of the season in their most uncertain season since 2000. Unable to play .500 or better baseball consistently, the Phillies will have a few major decisions to make as they approach the trade deadline.