Tag: SARI
Aug. 3, 2012
Engineering student takes SARI's first co-op
Less than a year after Drexel University established a partnership with Shanghai Advanced Research Institute, the first Drexel co-op student arrived in China to take advantage of the cultural and educational partnership.
Apr. 6, 2012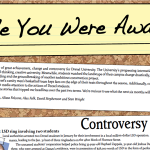 Nov. 4, 2011
Drexel signs partnership with SARI
Drexel University recently signed a collaboration partnership with the Shanghai Advanced Research Institute. The partnership will include a research initiative between a Drexel professor and SARI's life science department, President John A. Fry announced Oct. 19 in a press release.