Tag: Sundance Film Festival
Oct. 7, 2016
Nate Parker's 'The Birth of a Nation' succeeds despite heavy-handedness
Ever since it premiered at Sundance Film Festival earlier this year, Nate Parker's "The Birth of a Nation" has been a fountain of buzz and hype. Along with its title — reclaiming a name from D.W. Griffith's infamous 1912 racist masterpiece — the Sundance viewing audience reveled in its telling of the 1831 slave rebellion led by Nat Turner, a story Parker had been trying to bring to screen for at least seven years. It won both the grand jury prize and the audience award for dramatic feature in the lead-up to Fox Searchlight paying a record-breaking $17.5 million for the distribution rights.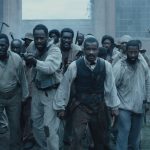 Feb. 3, 2012
Drexel prof. in Sundance film
"Finding North," a documentary about hunger in America featuring members of the Witness to Hunger research project at the Drexel University School of Public Health, debuted Jan. 22 at the annual Sundance Film Festival.