Tag: two door cinema club
Oct. 6, 2017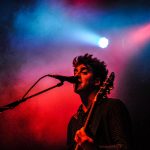 Oct. 5, 2012
Cinema Club packs the factory
Two Door Cinema Club played the Electric Factor Sept. 29 to a packed crowd. Playing fan favorites like "Sleep Alone" and "Something Good Can Work," the electro pop band left the small venue swarming with concert-goers.Two Door Cinema Club won itself new fans Sept. 29, after playing an amazing electro pop-filled set at the Electric Factory to a sold out crowd.
Sep. 16, 2011
Two Door Cinema Club delivers dance music to sold out audience
Since Two Door Cinema Club last made a stop in Philadelphia back in January, the band's popularity has exploded. Their songs are now heard regularly on the radio and stores such as Forever 21 and H&M now include the Northern Irish trio's music on their soundtrack. The band's music is infectious and spreading fast but not just because it's catchy. Two Door Cinema Club produces upbeat songs that are also well-written rock pieces.